Baja Black Bean Bowl with Charred Jalapeno Dressing
1/2 jalapeño, roughly chopped
1 garlic clove, smashed
1 teaspoon avocado oil
4 cups chopped lettuce (I like romaine)
1 3/4 cup black beans (about one 14.5 ounce can)
2 cups cooked quinoa
1 cup cooked sweet corn
1 ripe tomato, diced
1 avocado, diced
2 tablespoons fresh lime juice
1/2 cup plain Greek yogurt
1/8 teaspoon kosher salt
1 tablespoon water
1 cup corn chips or tortilla chips (broken up)
1/2 cup crumbled feta or cojita cheese
Preheat the broiler. Place the jalapeño and garlic clove on a piece of foil and drizzle with oil. Broil, checking after 5 minutes. If jalapeño is sufficiently charred, remove it, along with the garlic from the broiler. If it's not, leave the jalapeño on the foil, but remove the garlic so that it doesn't burn. Broil 5 minutes more. Set aside to cool
Divide the lettuce among the bowls, then do the same with the black beans, quinoa, corn, tomatoes and avocado.
Place the charred jalapeño and garlic in a small food processor or container designed for a stick blender, along with the lime juice, yogurt, salt and water. Puree until smooth, adding more water, if needed, to reach desired consistency.
Drizzle dressing over the bowls and garnish with corn chips and cheese.
Learn about the story behind the recipe
FROM SARA HAAS
Wednesday, August 26th, 2020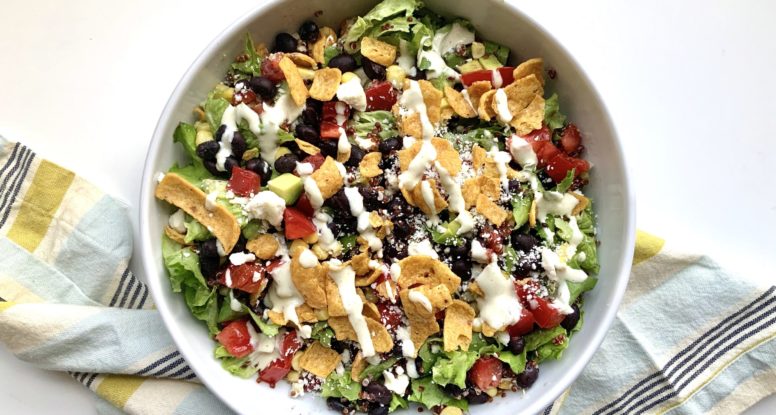 I'm calling it a bowl, but it could easily be called a salad. Basically, this Baja Black Bean Bowl is a bunch of veggies, beans and good stuff jammed together. Up to you if you want to put it in a bowl or on a plate! How do you make it? Let me tell you!
Prep it!
First things first here. In order for this recipe to be at it's absolute best, you should do a tiny bit of prep. And really all that is is cooking some quinoa. Yep, just make a big batch of it over the weekend and shove it in your freezer. Everything else is pretty simple. I mean, you can open a can and cut up a few veggies, right? Thought so.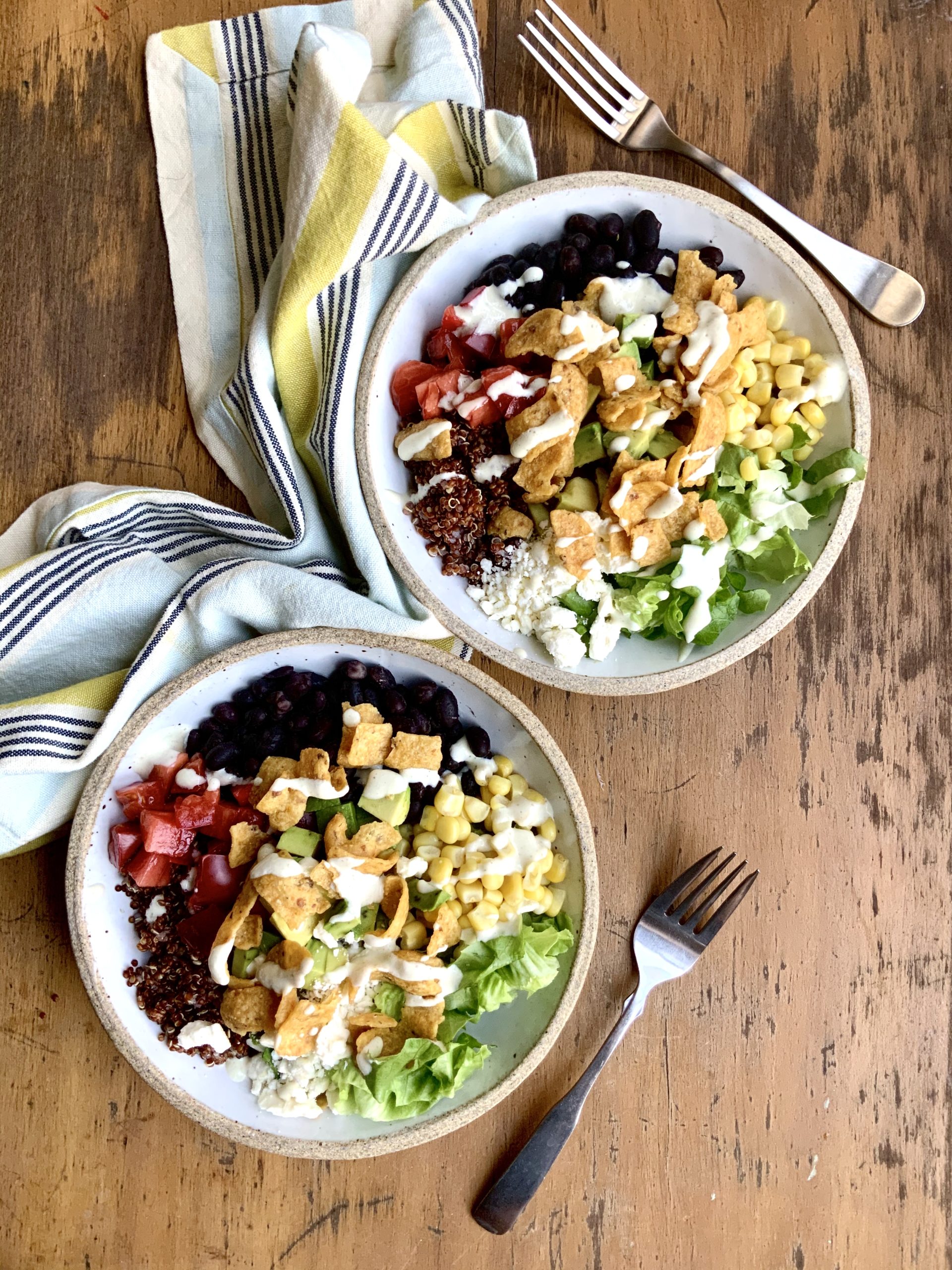 Make it!
Now, let's talk a bit about the dressing for this Baja Black Bean Bowl. I love the flavor of a broiled/grilled/charred jalapeno! That smokiness is so alluring and fun. And if you're wary of the spice, just remove the seeds and white membrane before broiling. All good. Could you skip the broiling altogether? You could, but don't.
Get Busy!